Sparc Love Letters
To Artworks/Sparc,
How I've missed everyone!
It was so good to see how everything is the same yet not, seeing you guide the new generation!
I'm so lucky to have been with you guys for all of these years, you've inspired me to be more confident, to reach for the impossible. I wouldn't be here today if it wasn't for you amazing people!
Thank you for giving me the fantastic memories that I look back on fondly and tell everyone who will listen.
Forever grateful,
Leah
xxxx
Dear Sparc,
I do love the colouring and sticking.
I do love the shows that I have seen with you.
I do absolutely love the shows.
I love the room and like Miranda and I love Claire and mummy.
Love and Kisses
xxxxxxxxxxxxxx
Seren W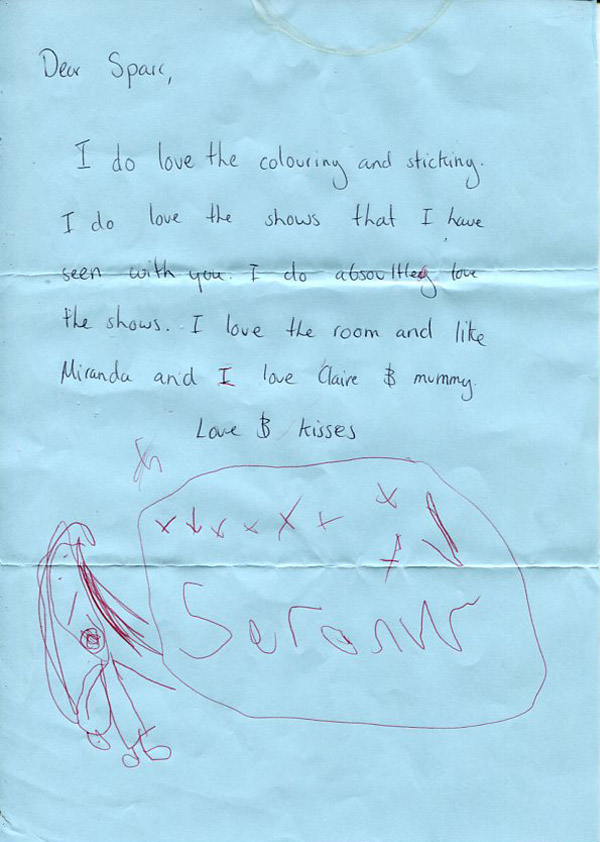 Sparc,
What can I say! A vibrant, modern, beautiful design intertwined with a message that runs to our core!
Sparc has been a home from home for so many for so long. A place for people to share their stories in a place where they have been to feel welcome and safe.
Their thoughts, their hopes, their dreams and their aspirations have all been heard and supported by a group of mentors who really care and have a passion for the arts running through their veins.
Artworks will always hold the most special place in my heart, but Sparc will be in my dreams and my hopes for the future.
Best wishes and Happy 20th Birthday
Emma
xxxxx
To Sparc
I absolutely love the fact I can be myself and I've met so many amazing people.
P.S I'm gonna marry Miranda or Gemma
Love Eloise
xx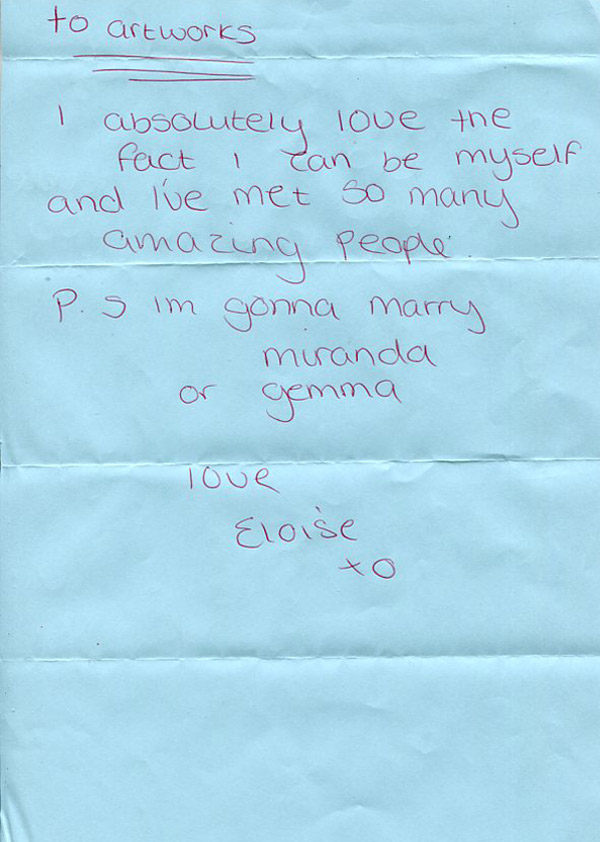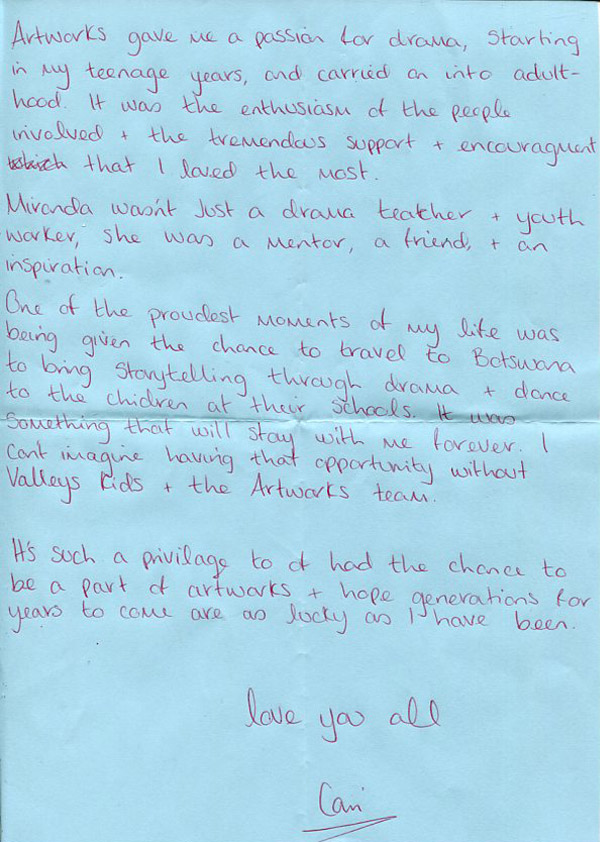 Artworks gave me a passion for drama, starting in my teenage years, and carried on into adulthood. It was the enthusiasm of the people involved and the tremendous support and encouragement that I loved the most.
Miranda wasn't just a drama teacher and youth worker, she was a mentor, a friend and an inspiration.
One of the proudest moments of my life was being given the chance to travel to Botswana to bring storytelling through drama and dance to the children at their schools. It was something that will stay with me forever. I can't imagine having that opportunity without Valleys Kids and the Artworks team.
It's such a privilege to of had the chance to be part of Artworks and hope generations for years to come are so lucky as I have been.
Love you all.
Cari
To Artworks/Sparc,
I love being here as I can always be myself. The opportunities I've been give are amazing! Such as going to North Wales and now going to Tate! I've met new and fantastic people and I can not wait to experience more.
Love
Alysha x
Dear Artworks/Sparc,
Love you so much!
Coming to drama makes me feel like myself, I am happy to be myself and I am so pleased that I have met new people.
I have stayed in contact with a lot of lovely friends from Artworks.
Gemma is my favourite.. Meh!
Love everyone and everything!
Natalia
xxxxxx
Dear Sparc,
What I love about drama is that it is really fun and really interesting! Drama will be part of my life forever!
My goal is to be an actor.
So with your help I might achieve it!
From Mackenzie
Age 11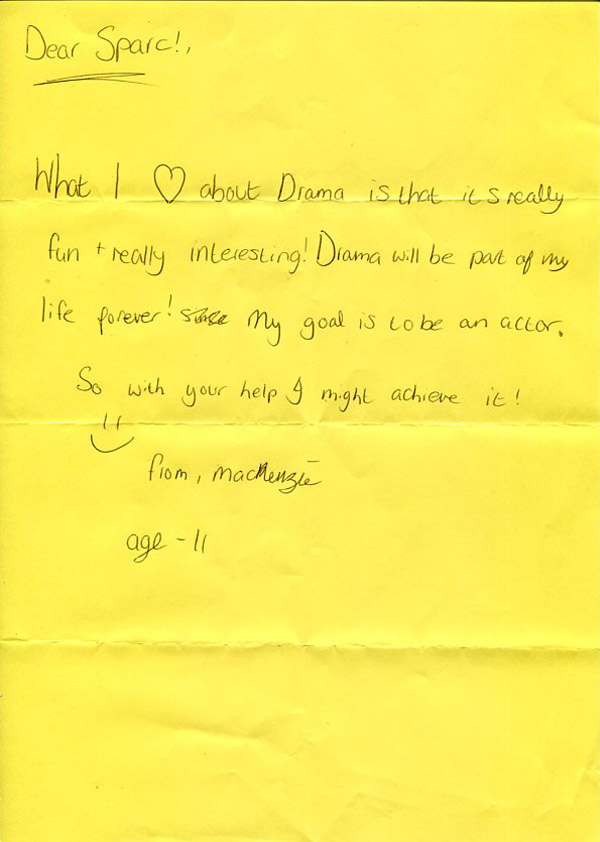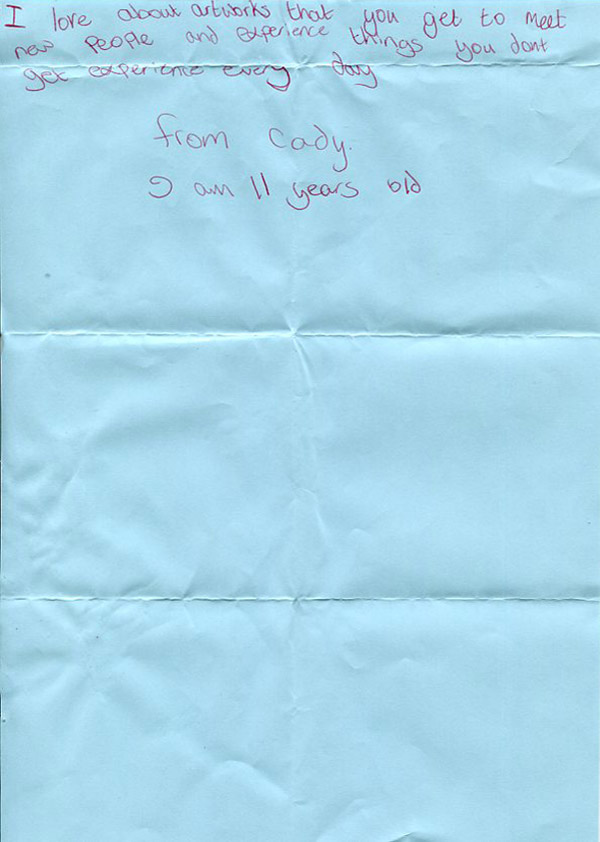 What I love about Artworks that you get to meet new people and experience things you don't get experience every day.
From Cady
I am 11 years old.
What I like about drama is going to shows, games and especially Miranda, Rachel and Claire
Ruby Emmett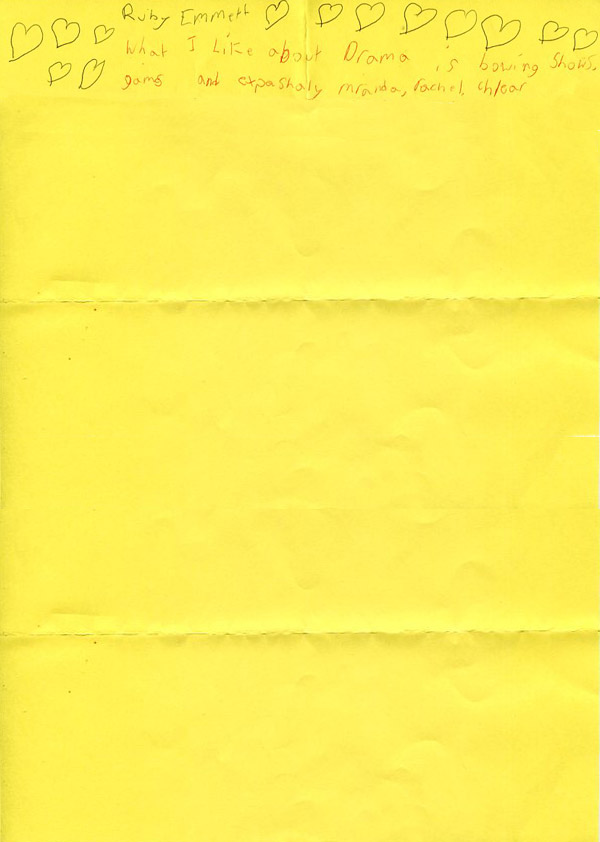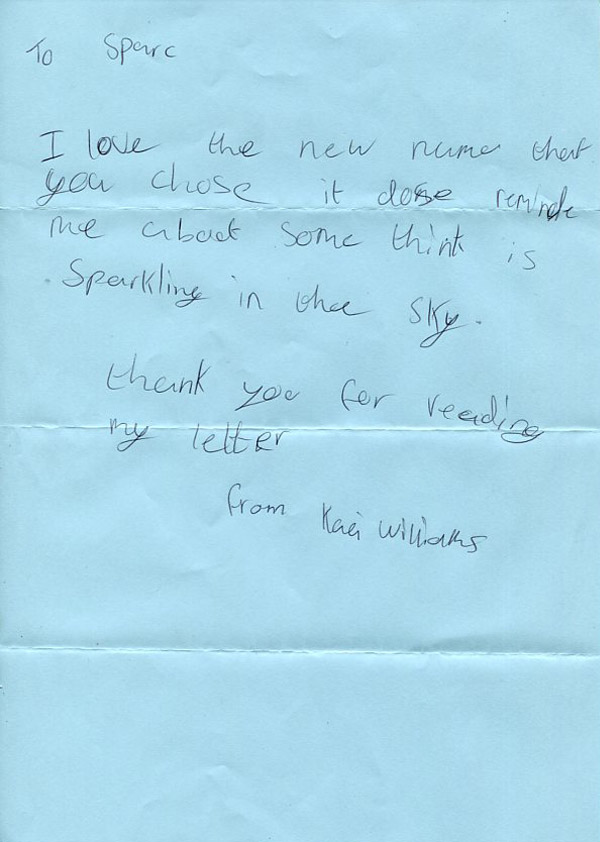 To Sparc,
I love the new name that you choose it does remind me about something is sparkling in the sky.
Thank you for reading my letter.
From Kai Williams
The poetry of motion.
The explosion of imagination.
A place to belong.
In company we grow strong.
The Sparc that lights the fire in our hearts!
Good luck for another 20 years.
Tom Stupple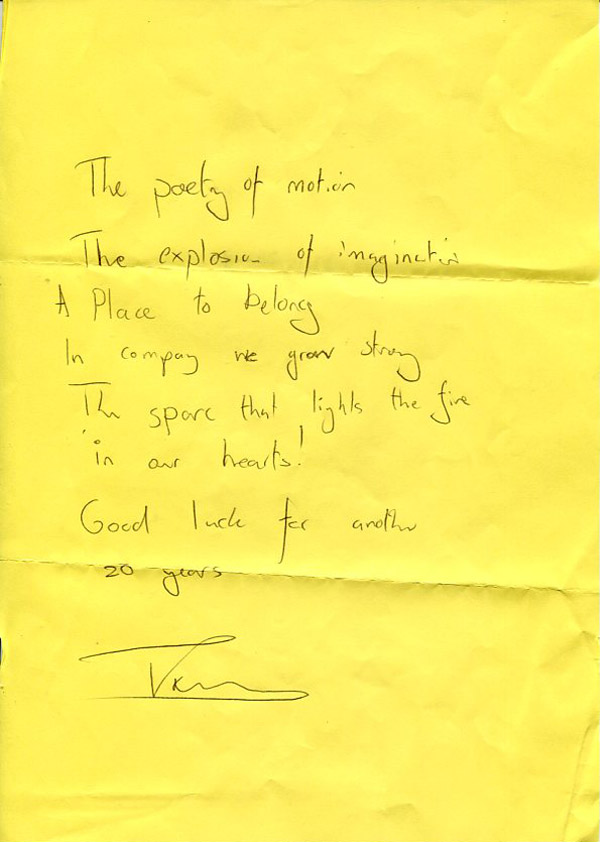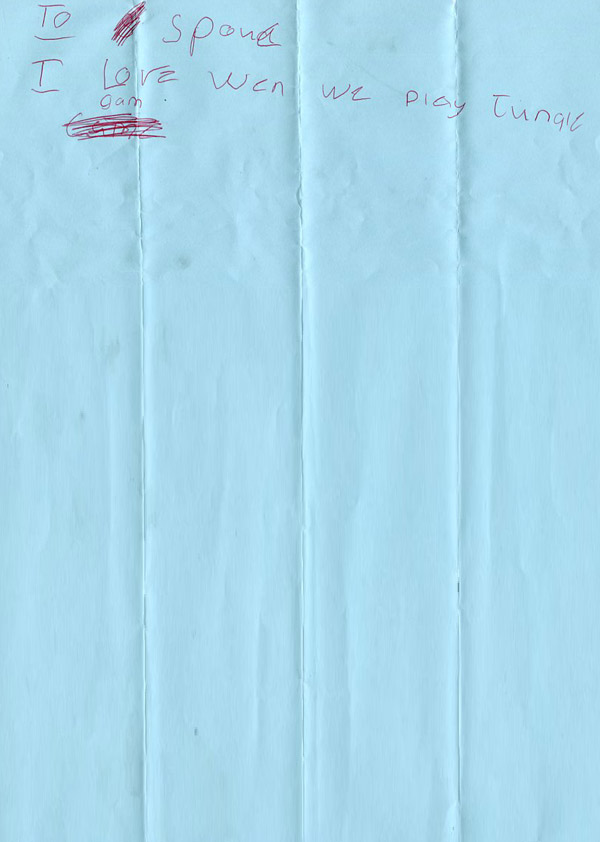 To Sparc,
I love it when we play the Jungle game!
Charice.
To Sparc,
I love when we coloured the Sparc logo in paint!
From Phoebe Williams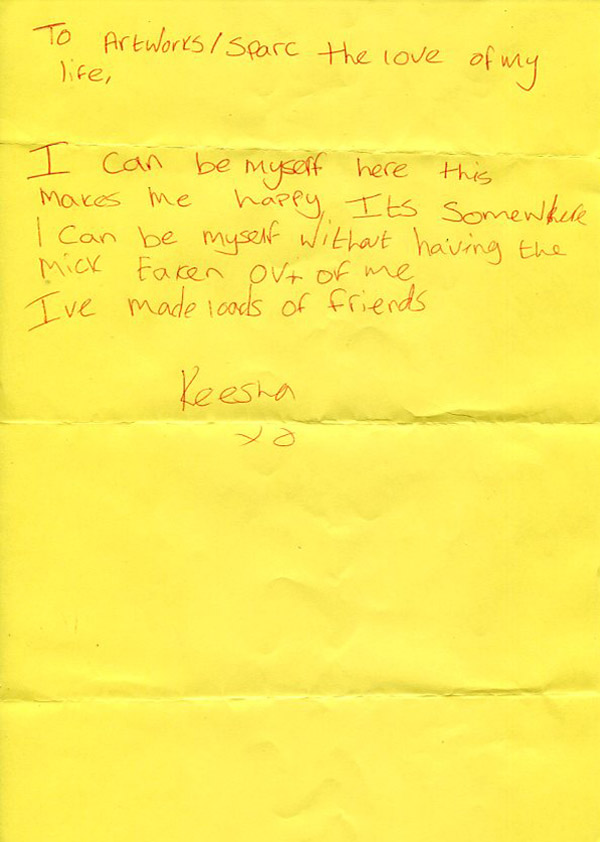 To Artworks/Sparc the love of my life,
I can be myself here this makes me happy. It's somewhere I can be myself without having the mick taken out of me.
I've made lots of friends.
Keesha
xx